IBM Mobile Foundation
Last week I went to a premier partner event at IBM on the London Southbank to learn all about their mobile application development and management tools strategy
IBM Southbank, London
The exclusive event was well attended and presenters Tony, Johannes, Jordi and Jonathan outlined how IBM's acquisition of Worklight complements their Cast Iron and Endpoint Manager products to deliver the Mobile Foundation portfolio of software and services. David Taylor blogged more generally about the last Websphere User Group and recent IBM developments including the Websphere Liberty server that comes included with Worklight but this event was focussed entirely on mobile.
Mobile First
As everyone knows, mobile development is universally "hot" and has been even before Google's
Eric Schmidt used the term "Mobile First"
. The $billions of growth in revenue from mobile applications predicted by IBM's market research has woken Big Blue up to the need for a credible offering in mobile. They
carried out a survey
, targetting 3,000 of their major clients, which backed up independent research by Forrester and others that showed some 75% of companies are strongly focussing on mobile, making it the second most important focus (behind
BI and analytics
).
Bring Your Own Device
There's especially interest now in serious business applications rather than games and social networking-oriented apps that have been so popular in the consumer market. Retail companies, financial services and transport industries are now extending their existing internal applications to their mobile workers and partners who are using their own phones and tablets – the trend known as
BYOD
– and this has Tech Services and Security people losing sleep at the risks of losing control of the workforce and their critical data being left on a phone that gets into the wrong hands. This is where
IBM Endpoint Manager
(formerly BigFix) for mobile devices comes in, it provides device management so that companies can manage the Apps and data on employee phones, wiping the whole device in extreme cases although the aim is to only have access to the "corporate" side of the device.
Mobile Device Management
It was acknowledged that
Mobile Device Management (MDM)
as provided by Endpoint manager has no real business "value" as far as revenue is concerned but it is important to protect data and be secure; in other words
selling on fear rather than benefit
.
However, in BYOD-world, the same reverse argument applies to employees not being too keen on letting their employers have unrestricted access to their own ~£500 gadget.
There has to be some common sense and trust applied and one area where service providers like Smart421 can help is defining policies and controls around the area of BYOD and MDM.
Worklight and Phonegap and the diversity of mobile
The main focus of the event was the
Worklight product set
which provides comprehensive mobile application development tools that cover everything from developing the Apps themselves, building them for iOS, Android, BlackBerry and Windows phone operating systems, through to managing integration to back-end enterprise services securely and even some service management plus analytics.
For those with any interest in mobile app development it is well known that the native languages for developing applications are different across all the main operating systems. If anything it has got worse in the last few years and shows no sign of slowing down as the mobiles get more and more powerful and the hardware and software companies get more and more litigious (see graphic below from
phonearena.com
).
The brilliant graphic of "who is sueing who" in the mobile space
This diversity in native development (partly for fear of infringing somebody else's patent) has recently led to a resurgence in commonly supported and
open
web technologies (
HTML5
,
CSS
and
Javascript
) being used to develop Apps that will transfer across all these devices. Worklight itself is built on top of
Adobe Phonegap
which claims to be:
"the only free open source framework that supports all 7 mobile platforms".
Phonegap provides the runtime component that wraps all that common
HTML5
and JavaScript code in a native container that then compiles and downloads just like any other App.
Developing Applications for Mobile through the whole lifecycle
I have been interested in mobile, handheld applications for over twenty years and our lead developers have been doing application
development
(thanks James Elsey for the blog linked here) for some time, more recently using Worklight itself (expect a further blog post with "lessons learnt" before long) but there has not been much traction within companies aside from consumer-oriented trials and the dreaded "proof of concept" type work that often ends up going nowhere.
In the past, the cost for professionally developing, launching and supporting applications across the
multiple mobile platforms
that developers have to contend with has discouraged many of our enterprise clients from taking serious steps into the mobile space.
Worklight isn't cheap
, but as a rule of thumb a business case can be made for using it where a company plans building
3 or more apps
on
3 or more of the platforms
. I can see many companies needing at least that in the next year or two.
The Worklight system manages versions and updates, it can manage messaging to the numerous different push messaging APIs and when the new
version 5.0.5 comes out on 16th November
it will include an Enterprise App-Store style feature known as the "Application Centre" (probably to avoid yet another logo being added to the litigation graphic).
Example success stories
A couple of interesting use cases that were presented were (with Youtube links):
A tire distribution company developing apps for route-tracking, their drivers are moving from expensive purpose-built boxes to software running on standard mobile devices which means it can be updated any time and managed remotely much more easily
A US cable network is running the same program guide software on all mobiles as on the set-top box, leading to a nice, consistent user interface for users
The sceptics among you may still be wondering what companies gain from developments based on a common approach like this, especially if their users all have iPhones. One consideration is that with hardware refreshes at least every 2 years the speed to deliver app updates and new apps is becoming more important than getting the better quality and tight integration with native features that native apps can give.
WorkLight enables updates for new O/S quickly (within one month we were told typically) and one other bonus for corporates is the lack of tie-in to a specific manufacturer or operating system if the apps are developed to work across all of them. This isn't quite as straightforward as it sounds, the majority of apps can be around 80% common HTML5, CSS and JS code with 20% still being developed as over-rides in the native code.
Javascript Frameworks
The rise of javascript is probably the most surprising aspect of all this to those of us long enough in the tooth to have done some web development in the late 20th century when javascript first appeared and who have suffered the problems of IE6 and other browsers not working in quite the way you expect with simple client-side js. A number of
javascript frameworks
have sprung up that provide a lot of the UI and native feature wrappers that are crucial for supporting the cross-platform aspects.
In the current version of Worklight the
Dojo framework
is included but the studio designer also supports
jQuery
and
Sencha Touch
. We can see this being an interesting area for incorporating more and more of the core handset interfaces, not just the UI, Location and File system (through encrypted cache which is a security feature aimed to alleviate worries of corporate data on devices) but also features like NFC that could open up ticketing and payments in the next few years.
So why are Smart421 interested in this?
As someone who developed my first "mobile app" for the Epson EHT-10 more than 20 years ago (
and got on to the cover of computing and mathematics magazine
 – I am the one on the left) I think this is an interesting time where everybody wants to jump on the bandwagon and companies like IBM would have you believe that making apps is going to be easier than ever before using tools like Worklight and standard web design.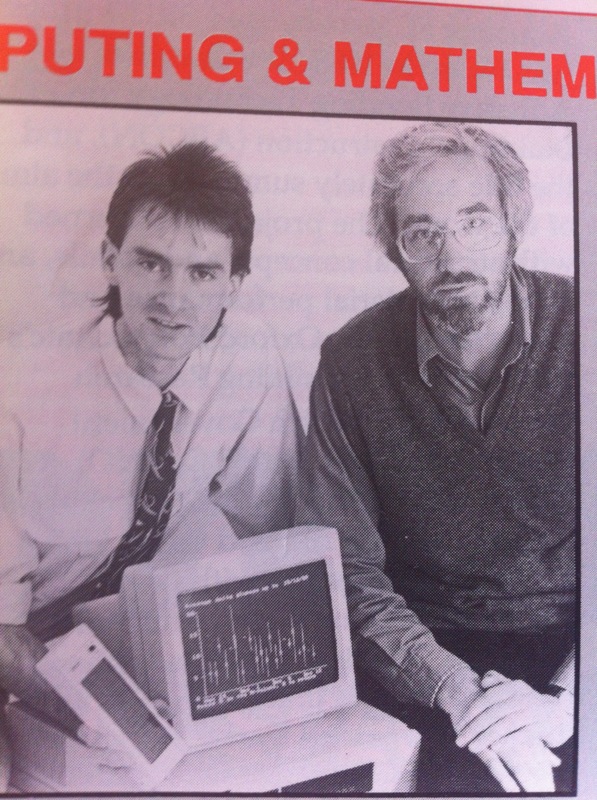 Epson EHT-10 running Turbo pascal on z80
In reality, I think there is still a need for both UI development skills, some native development skills and back-end integration, which is why
IBM have included Cast Iron in their  mobile portfolio
. The adaptors feature of the Worklight server is particularly in line with our SOA and integration focus and the built-in authentication features of Worklight will find synergies within Identity and Access Management (IAM) programmes to be able to link mobile security with corporate security and Single Sign On.
If anyone is interested in learning more then feel free to
contact us
.